XIII
Grade: D 
I held a contest on the GOG forum to see if anyone could create a mod to disable the hud in XIII.  drennan made the following mod and said this about it:  This mod hides certain elements of the XIII user interface.

To install, copy HUDFree.u and HUDFree.int into the System subfolder of your 
XIII folder. In the same folder, edit XIII.ini:

Replace the value of the DefaultGame key with HUDFree.XIIIHUDFreeGameInfo in 
the Engine.Engine section of XIII.ini, like this:

[Engine.Engine]
DefaultGame=HUDFree.XIIIHUDFreeGameInfo

Add the following section to XIII.ini to fine-tune what exactly is hidden:

[HUDFree.XIIIHUDFreeHUD]
bShowHealth=False
bShowWeaponsItems=False
bShowObjective=False
bShowDialog=True
bShowEndMessage=False
bShowSave=False
bShowPickup=False
bShowOthers=False
Here is the download link he provided:
http://dl.dropbox.com/u/2167715/XIII%20HUD-Free%20Mod%201.0.1.zip
I've also uploaded it to my skydrive, here:
I can't link directly to the file, just the folder.   It's named: XIII-HUD-Free-Mod-1.0.1.zip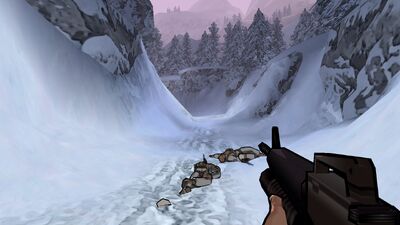 Ad blocker interference detected!
Wikia is a free-to-use site that makes money from advertising. We have a modified experience for viewers using ad blockers

Wikia is not accessible if you've made further modifications. Remove the custom ad blocker rule(s) and the page will load as expected.