Trine 2
Grade: A
Temporary:
Pressing F11 will disable the HUD for a few seconds, after which it will automatically reappear.  This is basically a screenshot mode.
Permanent:
Trine 2 also includes the option to disable the hud permanently in the menus.  If you are unable to turn off the hud, you need to apply the most recent patch.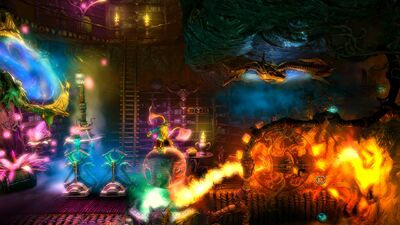 Ad blocker interference detected!
Wikia is a free-to-use site that makes money from advertising. We have a modified experience for viewers using ad blockers

Wikia is not accessible if you've made further modifications. Remove the custom ad blocker rule(s) and the page will load as expected.